Kenneth F. Essex (Retired)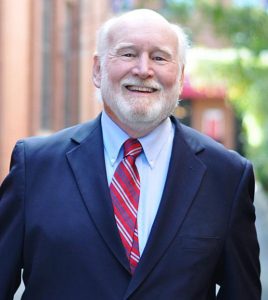 Kenneth F. Essex was one of the founding partners of Essex Richards. He has retired from the firm and no longer practices law, but continues to advise the firm in many ways.
Ken grew up in Winston-Salem and received his undergraduate degree in History from Davidson College. After Intelligence and Airborne schools, Ken served as an Army Military intelligence Advisor in Vietnam.  Ken returned to North Carolina and earned his law degree from UNC.  He practiced law in Charlotte for more than forty-five years and was active in numerous professional and civic organizations, including service as a member of the Board of Managers of the Dowd YMCA, a member of the Board of Directors of the Mecklenburg County Literacy Council, a member of the Board of Directors of Friendship Trays, a member of the Executive Committee of the Mecklenburg Country Bar, the Chair of the Bar's Nominating Committee, and the Chair of the Bar's Legal Services for the Elderly Committee.  Ken served as a member of the Board of Directors of MI-Connection, a publicly owned and operated cable and internet company serving parts of Mecklenburg and Iredell Counties.  He was recognized as one of the North Carolina's "Legal Elite" and was rated as an "AV Preeminent" attorney by the Martindale Hubbell rating service. Over the course of his career, Ken lectured on a number of business, estate planning, and estate tax topics, and his law practice was concentrated in the areas of Formation and Representation of Business Entities, Estate Planning and Probate, and Mergers and Acquisitions.
CONTACT ESSEX RICHARDS NOW